Our Story
The story of Wings Airways brings to life the romance and traditions of Alaska's rich aviation history on the same waterfront that began Juneau's floatplane businesses in the 1920's. Experience, enthusiasm, pride, and drive are the essentials for Alaska bush pilots, and are the driving force behind the entire Wings Airways organization.
In 2002 an exciting prospect emerged for an exclusive group of employees of a locally owned Juneau airline. This group of dedicated professionals who had built and nurtured one airline used their extensive expertise to create another. With the purchase of the floatplane flightseeing portion of a commuter air service, Wings Airways Inc. took off. Wings Airways carries on the long tradition of locally owned and operated flights off the downtown harbor. Owners include Don Bach, Al & Jeffra Clough, Dan Corson, Michelle Donohue, Robert Jacobsen, Holly Johnson, Wayne Love, John Lucas, Erica Sjoroos, Mike Stedman, Rusty Shaub, Bruce Tice, Mike Thomas, Sam Wright & Nick Yurko.
This committed team has modernized the classic fleet by converting five DeHavilland Otter aircraft from piston engines to modern, quiet, reliable turbine power plants. These conversions added versatility and a very high degree of safety to the overall operation. They also provided the community of Juneau with a decrease in floatplane noise. Wings Airways has modified its DeHavilland Otter floatplanes to make them better suited for flightseeing as well as added a brand new dock to the downtown Juneau seadrome. This level of investment shows a strong commitment to continuing the tradition of comfortable, safe, and reliable services to our guests and community.
The combination of great passion and love for what they do will persist in driving this team as they continue to provide travelers from around the world the opportunity to board the classic DeHavilland floatplanes and discover firsthand the magnificence of Alaska's vast wilderness and breathtaking glaciers.

The Fleet
The Wings Airways fleet of 5 DeHavilland Otters have a unique history that is highly regarded by the pilots that fly them and the mechanics that care for them. We also have quite a following from former and current aviators who know and respect the story of the deHavilland aircraft.
The Otters were converted between 2004 and 2005 from Pratt and Whitney radial engines to Garrett TPE331-10 turbine engines. With these 900 horsepower engines the aircraft reliability and safety factors were substantially increased.
For an added margin of safety Wings has installed modern Chelton GPS based EFIS glass cockpits in all of the Otters. We also take one step further to ensure each passenger enjoys unrestricted views as everyone has a window seat.
More About the DeHavilland Otter
First flown at DeHavilland Aircraft Company, Toronto, Canada on 12 December 1951, the Otter's design was similar to but larger than the company's Beaver. Both aircraft were designed to operate from rugged bush country as well as in cold weather operations. The Otter was in fact originally going to be named the King Beaver and it followed its predecessor's configuration very closely. It featured a conventional stressed skin construction and had a braced -wing with full-span slotted flaps with the outer portions acting as ailerons. The design proved to be highly versatile and could be operated on wheels, floats or skis.
Impressed with the performance of the Otter, particularly its ability to operate with heavy loads out of unprepared airstrips, the U.S. Army purchased a large number of them under the designation of U-1A. After evaluating a "loan" Otter from the Army, the Navy purchased four of them in January 1955 as UC-1As to serve as an air arm for Task Force 43 during Operation Deep Freeze I in the Antarctic. Procurement of a further fourteen, later designated as U-1Bs, included some for other countries. Nine of them with wheel/ski configuration were to further supplement and replace Otters in the Antarctic. Most of these planes have either been retired or gone on into private service. Some of both aircraft have been retro-fitted with turbine engines instead of radial engines. Today Otter's are in high demand around the world, especially on floats in Alaska, where the vast majority are based.

Medallion Foundation
"Flying is our passion…Safety is our Mission", Dan Corson, Director of Operations
Wings Airways is proud to have been the very first airline of our size to receive the coveted Medallion Shield. Safety is our number one concern and that theory is expressed throughout every aspect of the company.
It is our great pleasure to share the splendor, history and majesty of Southeast Alaska with visitors from around the world. To do so an a safe manner is essential!
Click here to visit the Medallion Foundation site for more information.
Wings Airways is honored to offer our Taku Glacier Flight & Feast Tour and we hope you will join us on this once in a lifetime experience!

The Juneau Waterfront
Juneau's downtown waterfront has been home to water based aviation since the early 1920's.
Originally, fishing grounds for local Tlingit Indians, the Gastineau Channel area became the
focus of attention in the late 1800's when a local Tlingit provided the first known gold ore samples to Joe Juneau and Richard Harris.
Shortly thereafter a 160 acre townsite was established filled by the first boatloads of prospectors arriving bound for the new strike on Gastineau Channel.The stampede was on. Juneau grew from a boomtown to a center for large scale hard rock-mining.
On the mainland side of the Channel two great mills were created in the early 1900's, the Alaska-Juneau at the south end of Juneau and the Alaska-Gastineau at Thane, further south. The opposite side of the channel is the shoreline of Douglas Island, home of the world-renowned Treadwell Gold Mining Company.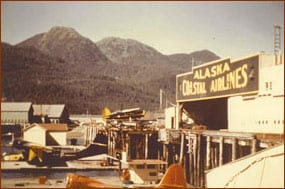 In the height of the industrial boom an aviation hub was born on the downtown waterfront. Roy Jones was the first man to bring an airplane to Southeast Alaska with the express purpose of starting a commercial airline. With Ketchikan as a home base, operations began the summer of 1922. He flew into Juneau on May 3, 1923 with a salesman from the Hills Brothers Coffee Company and landed at the waterfront. The flight aboard the Curtiss MF called the "Northbird" became the first commercial flight to Juneau.
On April 15, 1929 Anscel Eckmann flying a Lockheed Vega (NC-432E) called the "Juneau" arrived in Juneau non-stop from Lake Union in Seattle, Washington and upon touching down Alaska-Washington Airways was formed. AWA operated a number of Lockheed's from their home base at Lake Union to Juneau. Their fleet of aircraft was given Alaskan names, the "Wrangell", "Sitka," "Skagway," "Petersburg," and "Taku." This great attempt to establish a "class act" airline ended in March 1932 when the Seattle papers carried a notice of receivership. Although the Alaskan portion of the business was financially successful the stateside operation was directly effected by the Depression and other financial strains.
On April 5, 1932, Nick Bez an Alaskan Cannery czar, purchased two of the Alaska-Washington Airways planes and started Alaska-Southern Airways. For two years this was a very viable airlines, until the unfortunate loss of one of the aircraft closed operations.
Shell Simmons, an electrician at the Alaska-Juneau Gold Mine had a passion for flying. Simmons flew part time for Panhandle Air Transport, a one-plane operation out of Juneau. After the departure of the main pilot Simmons became the full time pilot flying their Stinson SM2A (NC-452H). When the plane suffered severe storm damage at Kimsham Cove, C. V. McKay, the owner, disgusted with aviation, negotiated with Simmons and sold him the plane for $1.00. With the acquisition aviation in Juneau was here to stay.
In 1935, the Stinson with a new blue and yellow paint job, and a new name, Alaska Air Transport began business in Juneau. Shell soon realized that to make money they would need to offer year round service, he would have to fly the winter months. In 1936, he purchased a Lockheed Vega (NC-47M) from Irving Airways. Then he added a Bellanca Skyrocket that he purchased from the Rockefeller family on the East Coast.
In 1936, Alex Holden started Marine Airways in Juneau and Robert E. "Bob" Ellis started Ellis Air Transport in Ketchikan. They were followed in 1937 with Petersburg Air Service, owned by Tony Schwamm, a former stunt pilot who had starred in "Hells Angels". Both Ellis and Schwamm started flying into Juneau. All landed at the waterfront seadrome.
In 1939, Alaska Air Transport and Marine Airways merged forming a new company Alaska Coastal Airlines. Alaska Coastal flew during World War II with a number of planes, two Lockheed Vega's (NC 47M & 49M), a Bellanca Pacemaker (NC-196N), a Curtis Kingbird (NC-622V), a Waco. In 1945, after the war, they purchased their first Grumman Goose, adding several more over the next two years. In 1949 they purchased a Consolidated PBY, the "Catalina."
In 1962, Ellis Airlines and Alaska Coastal merged to become Alaska Coastal-Ellis Airlines. They had the largest fleet of Grumman Goose aircraft in the world. In 1968, Alaska Airlines purchased the company opening the seadrome to several organizations, including "Southeast Skyways", Taku Glacier Air, Alaska Coastal Airlines and the current Wings Airways Inc.

Charter Services
Floatplanes offer a wide variety of remote charter options throughout the southeast Alaska area. Not only does every person on board enjoy their own window seat but these uniquely Alaskan aircraft offer you access to places and sites no other type of aircraft can! Combined with the remote Taku Glacier Lodge lasting memories are guaranteed.
Taku Lodge Site Rental:
The Lodge is available May through September for private rentals on a limited basis. We have hosted Board meetings, team building sessions, family reunions, Birthday celebrations and wedding parties for a unique wilderness occasion. The Taku Lodge has a seating capacity for 50 people maximum.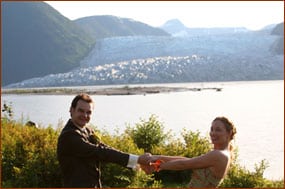 Engagements & Weddings:
It would be difficult to find a more uniquely Alaskan location for your special day. Rustic elegance surrounds you and your guests from the moment you land on the Taku River at the Taku Lodge. Say I do while immersed in breathtaking Alaskan wilderness. Photos of your ceremony will be epic with one of the Juneau Icefield's most gorgeous glaciers, the Hole-In-The-Wall glacier as a backdrop to your perfectly Alaskan wedding.
Endless charter options:
With endless alpine lakes in the nearby area there are virtually untouched lakes waiting to be explored. Whether it's for a beach combing adventure, astonishing wilderness hiking or secluded fishing opportunities we offer
customized charters that will allow your party something out of the ordinary. An experience not soon to be forgotten.
For the more involved Alaska visitor we also offer charter floatplane drop off and pick ups to several Forest Service Cabins throughout the Southeast Alaska. Our experienced pilots can fly you in and schedule a pick up after a single or multi night stay. An exclusive cabin experience that allows you the quiet seclusion of the Tongass National Forest and all it's splendor.
Contact us for availability and pricing.